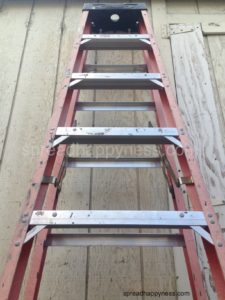 Week #123 – Spread Happyness: Lower the ladder!
Happy Friday, Everyone!
In addition to all the personal resolutions people make in January — like losing weight, eating better, working out, and getting more sleep — did you know the first month of the year is also the MOST popular month for job searching?
With mostly cold winter weather ahead for the next two to three months, it's natural for us to use this time to think about how we'd like to spend the year, what changes we'd like to make, or how to increase our income.
It's also a time when college students will start inquiring about internships, first jobs, and those oh-so-awkward informational interviews.
For others it's a time to start thinking about building their own businesses, breaking out on their own, creating a side hustle, or entering a new field.
Did you ever meet someone who has what you want, is maybe just a step ahead of you in their career, or has some experience that might be relevant to your life…so you ask them for advice or help or a conversation.  And they pull up the ladder?!
Oh…I just got really lucky.
It's really hard.
I wouldn't recommend it.
There are easier ways to make a living.
Great for them…since they've already gotten where they're going, right?
Well here's one easy way to Spread Happyness this week: Lower the ladder!
Your Happyness Challenge for the Week Ahead: LOWER THE LADDER!  Do you know someone looking for work?  A college student looking for an internship?  A graduate who is still trying to figure out what to do or where to get started?  Are you in a position to guide, advise, help, refer, or connect someone who is searching for career advice, experience, or a job?  Don't pull up the ladder…LOWER IT!  Think of the people who helped you get where you are right now…that first contact, that first referral, that first interview or hire.  No matter what position you are in…even if you are not able to hire someone directly, you are more than likely in a position to help someone in their search, and become one of those people you remember for giving you a leg up.
Spread Happyness — LOWER THE LADDER and give someone a leg up this week!
1/20/16 by Grace Church
© Grace Church
grace@spreadhappyness.com