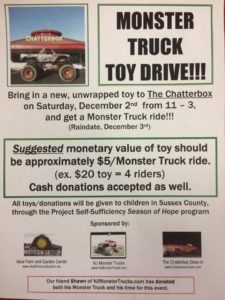 Week #168 – Five Weeks to Happyness: MONSTER TRUCKS for TOYS!
(Happyness Re-Revisited — with Amy Wood-Oblen)
Greetings Happyness Tribe — and Happy December!
The holiday season is officially upon us — and nothing pleases me more than to revisit the story of a young mother paying it forward as part of our Year-End Countdown to Happyness!
Rob's classmate — Amy Wood-Oblen and her family — are ONCE AGAIN (and one last time at the Chatterbox) headlining the Monster Trucks for Toys Event at the Chatterbox Drive-In in Augusta, NJ.  
AND IT'S THIS WEEKEND!
This year's event takes place on Saturday, December 2nd from 11-3p  — and will continue to benefit children in Sussex County this holiday season.  Each new, unwrapped toy gets you a ride on the Monster Truck for free!  (See poster for details.)
Amy told me in 2014 that she and her family are happy to give back to Project Self-Sufficiency's Season of Hope Program.  "It means a lot to us because years before I met my husband I lived in Sussex County with my son and for a few years they helped me to put presents under my tree, so I owe them a lot."
This all started years ago while Amy's husband Shawn (owner of NJ Monster Trucks) was eating at the Chatterbox Drive-In — and talking with owner.  During that conversation, they came up with the idea of doing rides for toys.
Five or six years later now, it's a tradition!  
Each year, they collected a dining room full of toys!  (See photo below.)  Toys that will go to children right in Amy and Sean's — and The Chatterbox's — own backyard.  Amy added, "it's a plus to know it will be local children receiving the gifts."
And while the suggested donation value is $5 per ride, Amy says:  "The great thing about this event is how much people give…they give much much more!"
Weather has been an issue in the past because if it rains or snows they have to cancel.  This year they are once again starting early — with a rain/snow date of Sunday, December 3rd.
It's been years now since Amy has needed to apply for help at Christmas.  "I still can feel the anxious feeling waiting to see if I would qualify to receive gifts. It's been 11 years and it's still so fresh to me."  Doing the toy drive allows her to take that feeling away from other parents.
"Seeing and living the magic through my children and knowing we can give other children that same magic is what Happyness means to us."
Last year, Amy shared a photo of her two youngest (Shane and Sammy) helping out at the 2016 event.  Anyone who knows Amy or her family knows that the kids are very involved with the Monster Truck events.  "I love that my kids enjoy helping other children. It makes them feel good."
As many people know, The Chatterbox has been sold and will be closing in 2018 — making this the last year to attend the event at this unique location.  But that won't stop Amy.  She told me she hopes to partner with another nearby business to keep this yearly tradition going in the future.
Your Happyness Challenge for the week ahead: GIVE GENEROUSLY!!! As I wrote in Week #11 when this blog first started, one of my brother's greatest joys was donating to Toys for Tots each year.  Spread the Wealth again this year!  If you're a Sussex County local, Amy's event on Saturday is a great place to start.  Otherwise — find a church, local food bank (don't forget the coffee!), Salvation Army, Toys for Tots, or other organization that will benefit people in need right in your own backyard!
Spread Happyness — GIVE GENEROUSLY!  Spread the Wealth and donate a game or toy (or food, coffee, pajamas, etc.) to those in need this year!
(And if you or someone you know is hosting their own local charity event or fundraiser that Spreads Happyness directly to those who need it — please let me know!  I'd love to feature them on the blog!)
12/1/17 by Grace Church
© Grace Church
grace@spreadhappyness.com
(PS: Special thanks to Amy Wood-Oblen for taking the time to share and update her story with me again this year!  To learn more about NJ Monster Trucks, visit them on Facebook at facebook.com/NJMonsters)