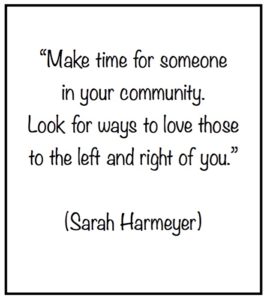 Week #171 – Two Weeks to Happyness: "Love those to the left and right of you."
(Happyness Re-Revisited – with Sarah Harmeyer and Neighbor's Table)
Greetings Happyness Tribe — and Happy Holidays to all!
We are closing in on the last two Fridays of 2017…and this week, I am reminded once again of the loneliness of the holiday season.
While Jim and I are looking forward to going "home" next week to visit friends and family on the East Coast — at every turn I'm reminded of people who aren't, who can't, who just won't, or who will never be able to do so again.  Whether it's through death, divorce, dysfunction, deployment, work demands, or just economic or logistical difficulties with traveling — there are millions of people who don't get to "go home" for the holidays.
Which reminded me of my post last year and the year before about Sarah Harmeyer of Dallas, Texas — for her creation of Neighbor's Table .  I thought I'd repost it this week, with a simple challenge in Sarah's own words:
"Make time for someone in your community. Look for ways to love those to the left and right of you." (Sarah Harmeyer)
If you've been following for a while, you may remember that Sarah is the "Chief People Gatherer" at Neighbor's Table — a movement that encourages people to step outside their homes and get to know their neighbors, one table at a time!  Sarah took a simple concept and a sweet memory — and turned it into "A Love Mission" that has kept her (and her family) busy for over five years now (including landing her table on HGTV's "Nashville Flipped!").
And it all started in her own backyard!
In my interview for Week #66, Sarah shared her story with me.  In 2012, she asked her father to build her a table big enough to seat 20 people.  The concept was simple: she wanted to get to know her neighbors.  That year, she set a goal to serve 500 people in a series of dinner parties.  When I interviewed her last year, that original table had been host to almost 2,000 people!
[Read the full story here: Week #66 – Two Weeks to Happyness: SPREAD THE LOVE! (Happyness in Action – with Sarah Harmeyer).]
Sarah and her father went on to build tables for other people so they could start their own "love mission" in their communities.   At the time of my post in 2015, there were Neighbor's Tables in 10 states with a goal of having a table in every state by 2020!  By the looks of her Facebook page, they have been busy building and delivering ever since!
I asked Sarah what Happyness meant to her.  She said, "Happiness is gathering friends and strangers alike around the table and figuring out ways the entire time on how to love them.  Happiness is cheering others to love.  Happiness is doing the thing that God has made you to do."
What about you, Happyness Tribe?  Are you ready to Spread the Love again this year?
Your Happyness Challenge for the week ahead: SPREAD THE LOVE!  Do you have an extra seat or two at your table this holiday season?  If so, "love someone to the left or right of you!"  Bring a NEIGHBOR into the mix (or student, or senior, or new kid on the block)!  Ask if they have plans.  It could be just for dessert or a drink or a quick cookie exchange.  But it might be especially meaningful during the holidays — when one or more of your neighbors are alone or distanced from family (or perhaps it's you that feels alone this holiday season).  Open your doors!  Spread the Love!
"Make time for someone in your community. Look for ways to love those to the left and right of you." (Sarah Harmeyer)
Spread Happyness — Spread the Love!  Get to know your neighbors this week — and tell me about it in the comments!
12/22/17 by Grace Church
© Grace Church
grace@spreadhappyness.com
(Thanks once again to Sarah Harmeyer for welcoming me to her virtual table and sharing her story with me in 2015!  To learn more about Sarah and Neighbor's Table, read inspiring stories, or find out how to get a custom handcrafted table for your own backyard — follow Neighbor's Table on Instagram and Facebook, or sign up for emails or purchase at http://neighborstable.com.)