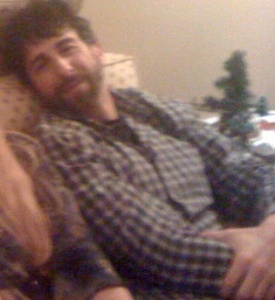 Week #17 – "Warm" Enough?  (Ten Practical Ways to Spread-the-Warmth during this Cold Snap!)
While visiting my parents last week I had some time to go through the many, many cards and letters they received after Rob died.  In all the material I read, one of the most frequently used terms to describe Rob was "WARM."  Now…warm might conjure up soft images like "warm and fuzzy" or "compassionate" or "caring".  These are all valid angles to explore…but since it's cold and my attention span is at about…oh…what was I saying?…I'm going to get right to the point!
Your assignment this cold winter weekend: Put one of these "Ten Practical Ways to Spread-the-Warmth" to work this week!
At Home
1. Start someone's car!  I know many of you have remote starts but there are still a few of us who don't!  A warmed up car as you're running out the door is such a blessing!
2. Leave the porch light on!  Nothing says "I love you" like a well-lit door.  (And nothing says, "Ha ha…I'm warm in here and you're not!" as you fumble for your keys in a dark entryway!)
3. Boost the thermostat for loved ones.  I know a big, tough, maitre d' who runs a dining room staff like a Don…and yet he told me he sets the thermostat to rise 15 minutes before his youngest gets up for school so that he'll have a warm bathroom in the morning.  How sweet is that?!
4. Help carry in the groceries — or volunteer to bring home the food!  Either way, plan meals at home during a cold snap.  This not only saves money…it saves valuable time lost to deciding where to go, going there, waiting for your meal, and then coming home.  And who doesn't need more time?!
5. Snuggle up with hot beverages and watch movies.  As a family, as a couple, with friends, with pets, or all alone…movie night is always a precious way to stay warm, get a little extra rest, and catch up on all those films that you missed during the holidays and nicer weather!
Outside the House
6. Bring donuts/coffee into work.  Be that guy (or gal) — and expect nothing in return!
7. Put the carts back!!!  ('Nuff said!)
8. Take care of your gas station attendant.  I've lived in places where I've pumped my own — and I know how to do it — but man, it sure is nice to stay in the car on a cold day!  Be sure to thank that guy or gal who's making that possible!
9. Know someone else who works outside?  Bring them a snack or something hot to drink!  (This is also a nice way to win over someone's heart…just sayin'.)
10. Finally…Move It Along!  If someone who works outside is waiting on you to move or make their job easier (gas station attendant, crossing guard, mail carrier, garbage/recycling pick-up, delivery people, etc.) send a warm message and make a way — or move it along!
Something here ring a bell?  Tried something and it worked?  Other ideas or thoughts to share?
Spread Happyness — and Spread the Warmth!  Share your ideas in the comments!
1/9/15 by Grace Church
© Grace Church
PS: To everyone who sent all those cards or letters…thank you!  Each one means so much!