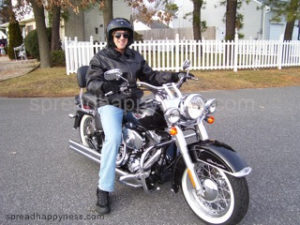 Week #18 – "Roll Me Away!" (What's your escape song?)
The winter doldrums are setting in…the holidays are over, and we've got a long six weeks until March 1st, let alone the official start of Spring.  I can feel it everywhere…everyone wants to escape!
Snowbirds are flying south…resort season is in full swing…summer rental signs are going up…and the B&B's in town are starting to book for the season.  Even Mother Nature is showing her intent…on Sunday I noticed the trees on Main Street are budding…which got me thinking my usual first-sign-that-spring-is-just-around-the-corner-thought: I really want a motorcycle this year!
My brother introduced me to the song "Roll Me Away" by Bob Seger.  I don't remember when or why that song specifically came up…but after I got my motorcycle license and we drove around a bit together, I understood why he loved it so much.  Nothing felt so free as riding a bike!  And that song captures that longing for freedom perfectly.
Try as we might…we can't be perfectly happy all the time.  Longing is a part of the human condition…it's what keeps us dreaming, keeps us envisioning, keeps us journeying to find out what's beyond that next bend in the road…and then over those hills…and then out further along that plain…
Your assignment for this week: When you come across something you "aren't happy about" — don't just settle for unhappiness!  Identify the longing…and use it to get focused on what you want.  Then, get a theme song to inspire you!  When I was leaving my corporate job, I listened to Boston's "Don't Look Back" every single day on my way to work to remind me that my future was AHEAD of me…not behind me!  Maybe for you it's a workout song…or a vacation-starts-today-song…or an interview song.  Whatever it is, try it…and let us know how it goes!
As for today…"Roll!  Roll me away…I want to roll me away tonight!"  Do you have a longing that needs a soundtrack?
Spread Happyness — share your thoughts or tell us about your "escape" song in the comments!
"Next time…we'll get it right!"
1/16/15 by Grace Church
© Grace Church