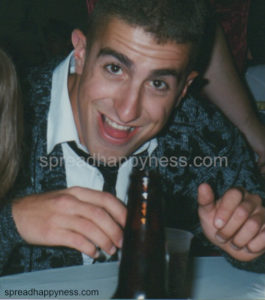 Week #96 – Sit down and rock a while!
Greetings Happyness Tribe — and Happy Friday!
This week's post comes on the heels of yet another worldwide tragedy.  I've got to be honest, at times like this it can seem really silly to talk about Happyness.
But then, I wonder, if this is exactly the time to double down.  As I wrote last week — these events can leave us wondering what in the world one person can do to make a difference.  But it's important to remember that what we do might very well make a difference to one person's world.
I traveled home last weekend for the first time since my move to California in March.  It was a fast and busy trip centered around a yearly concert in Ocean Grove's Great Auditorium.  Between singing in the concert and visiting with my folks — people knew where they could find me: in the choir loft or on the porch of the B&B where we stayed.
All weekend long we were greeted with passers-by: some with a quick hello as they moved with purpose down the block, some with a friendly wave as they walked their pups or schlepped their beach bags up to the boardwalk, and some with a light beep as they drove along the narrow street.
But others stopped to chat, took a seat, had some coffee, or shared in our potato chips or pizza or whatever it was we were eating at that time!
There is something magical about sitting on a porch.  Something that automatically slows you down and shifts your gaze a little further beyond where you've been looking.  Something that opens you up and encourages you to share, to be honest, to be vulnerable.
Something that helps us connect — and maybe make a difference — to the person sitting next to us.
Your Happyness Challenge for the Week Ahead: Sit down and rock a while!  Whether you have a porch, deck, patio, balcony, or tailgate — pull up a chair, take a load off, sit a spell, have a chat, visit a bit, or rock a while!  Watch the traffic, cars park, people pass by, critters hard at work, nature doing her thing, or just observe the world moving about while you sit still.  Invite someone to join you.  Share a glass of something cold, have a conversation, meet a neighbor, visit with friends, or get to know just a little bit more about your own family.
The world is moving fast…make porch time a priority this week!
Spread Happyness — tell me, what's your favorite place to sit down and rock a while?
7/15/16 by Grace Church
© Grace Church
grace@spreadhappyness.com